Using Religion to Fight HIV
As written in the New Vision by Cecilia Okoth
People who adhere to God's guidance have a high degree of adhering to their drugs thus having less HIV infection rates, Prof Magid Kagimu, the chairman of the Islamic Medical Association of Uganda (IMAU) has said.
Explaining religiosity as an important component in health care, Prof Kagimu said a mini-survey conducted among people living with HIV/AIDS revealed that religion has helped scale down HIV among the Muslim community.
"These people told us that adhering to faith teachings is one of the ways they have been able to prevent the spread of infection, ensure proper treatment and even thank God for enabling them to live longer, which strategy we think is very good for prevention," Kagimu said.
He made these remarks during the closing ceremony of the fourth international Muslim leaders Consultation on HIV/AIDS at Saidina Abubakar Islamic Hospital in Mattuga, Wakiso district.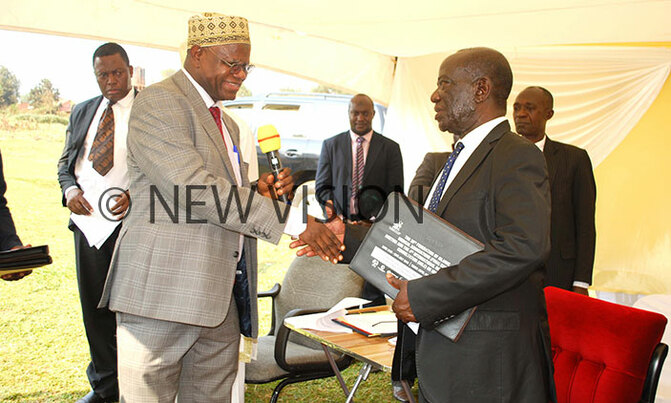 "We had a delegate from Saudi Arabia who told us that the HIV prevalence in the country has been 0.02% since the epidemic started. The same is true for countries in the Middle East and North Africa. This is because they stick to their religious teachings and practices. So we believe that this is what Uganda should be learning," he explained.
PIC: The Vice President Edward Kiwanuka Sekandi (center), Second deputy Prime Minister Ali Kirunda Kivejinja (in white) and other dignitaries looking at the foundation stone of Saidina Abubakar Hospital during the closing ceremony of the fourth International Muslim leaders consultation on HIV/AIDS  (Photo by Lawrence Mulondo)
Part of the resolutions made during the meeting included reviewing the HIV/AIDS prevention, treatment, and care policies to incorporate quality religiosity as a key component in fighting the epidemic in individuals, families, communities, health facilities and health training institutions.
The delegates also resolved to promote interreligious cooperation by identifying similar faith teachings that support HIV prevention, treatment, care and to continuously remind their communities to utilise these faith teachings effectively.
It is estimated that 1.3 million people in Uganda are living with HIV, according to the 2016 Uganda Population HIV Impact Assessment (UPHIA).
UPHIA indicated a fall in HIV national prevalence at 6% compared to 7.3% according to the 2011 Uganda AIDS Indicator Survey. This indicates that Uganda has made significant progress in the national HIV response.
The successes notwithstanding, experts on Friday last week came out to warn the public against letting their guard down, saying the fight against HIV is not yet over.